Do You Have A Construction or Renovation Project We Can Help With?
Picket Railing, Fencing, and Gates
Picket railing systems and gates are arguably our most popular products, and the picket is available in a variety of sizes.  The most popular size is 5/8″.  Picket is available as a primary or secondary feature in your railing design.  Picket railing is our least expensive base option.  Most of the gates we make are made with picket.
5mm Glass Panels and Insets
Glass panels are another popular product which come in a standard 5mm thickness. Glass is available in a variety of shapes with in 5 different finishes to choose from.  It is available as a primary or secondary feature on your railings, and can also be used to construct privacy screens.
Rail Cap Profiles
Our railing systems can be capped by a variety of popular and proprietary designs.  All of these top-caps are available as a handrail (with no railing panels).
12mm Glass Panels, with Topless and Frameless Options
12mm glass railing systems are some of our higher-end products.  The  panels are available in a variety of shapes and sizes, and are available with topless and frameless options for a clean, unobstructed aesthetic.  Topless systems come with aluminum intermediate supports which are available in a variety of standard and custom designs.  Frameless systems have no aluminum structure above the mounting surface.
Aluminum Staircases and Landings
Our all-metal aluminum staircases are virtually maintenance free, compared to standard wood stairs.  They are available in a variety of styles and grip textures.  Landings can also be fabricated from aluminum to attach as an add-on to your deck space, or in between two levels of stairs.
Custom Fabricated Designs
Because all of our products are custom, we fabricate many unique one-off and one-of-a-kind designs.  Below is a small selection of some of the novel designs we have made over the last few years, but we are always open to trying new things, so if you have something interesting in-mind, let us know!
We offer a wide variety of coloured and textured powder-coat finishes which ensure a long-lasting and durable product that is more resistant against scratches, chipping, wear, and fading when compared to other types of finishes.  Below you will find approximations of some of our most popular colours.  NOTE: Colours presented on the web are approximate, for an exact presentation, we can provide you with physical samples to choose from.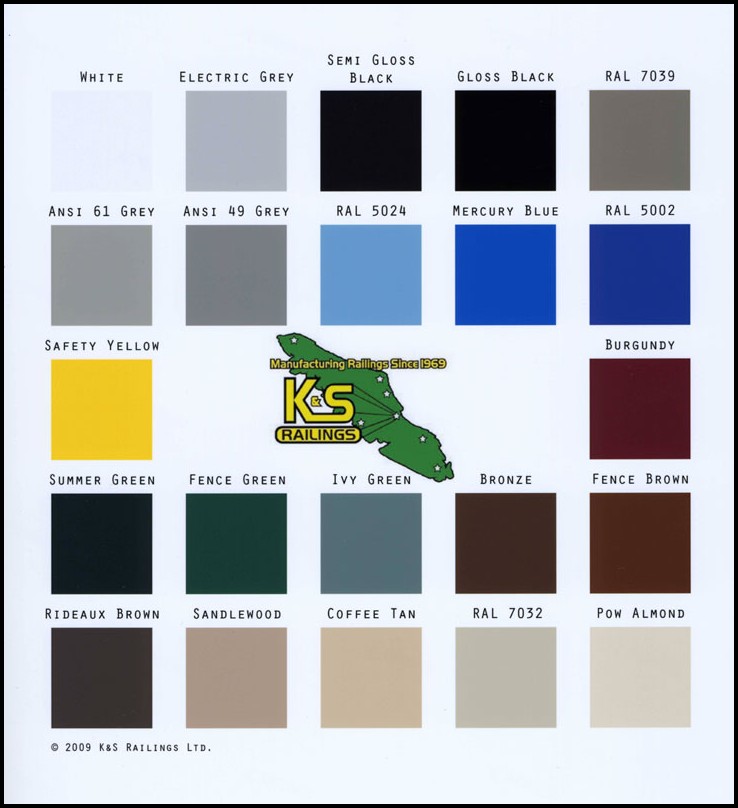 All of our products and railings can be fabricated to exact customer specifications if they want to provide us with drawings of the items they want, or, alternately, if the customer can get us exact deck dimensions, including fascia board cross-section, then we can custom fabricate railings to easily fit your deck!
Warranty
K & S Railings is the premier manufacturer of glass and aluminum railings in Nanaimo, for both residential and commercial construction. At K & S, we have established a long history with contractors and residents, specializing in top quality products and service to Vancouver Island since 1969. We only sell what we manufacture in our Nanaimo production facility. All railings, fencing, and gates are protected by the most modern electrostatic powder-coated finishes, in a variety of colors and textures. Our product quality speaks for itself, we use only the best materials and hardware to maintain the highest standards in the industry. Let us work with you to add that special touch to your home or large project.
At vero eos et accusamus et iusto odio dignissimos ducimus qui blanditiis praesentium voluptatum deleniti atque corrupti quos dolores et quas.